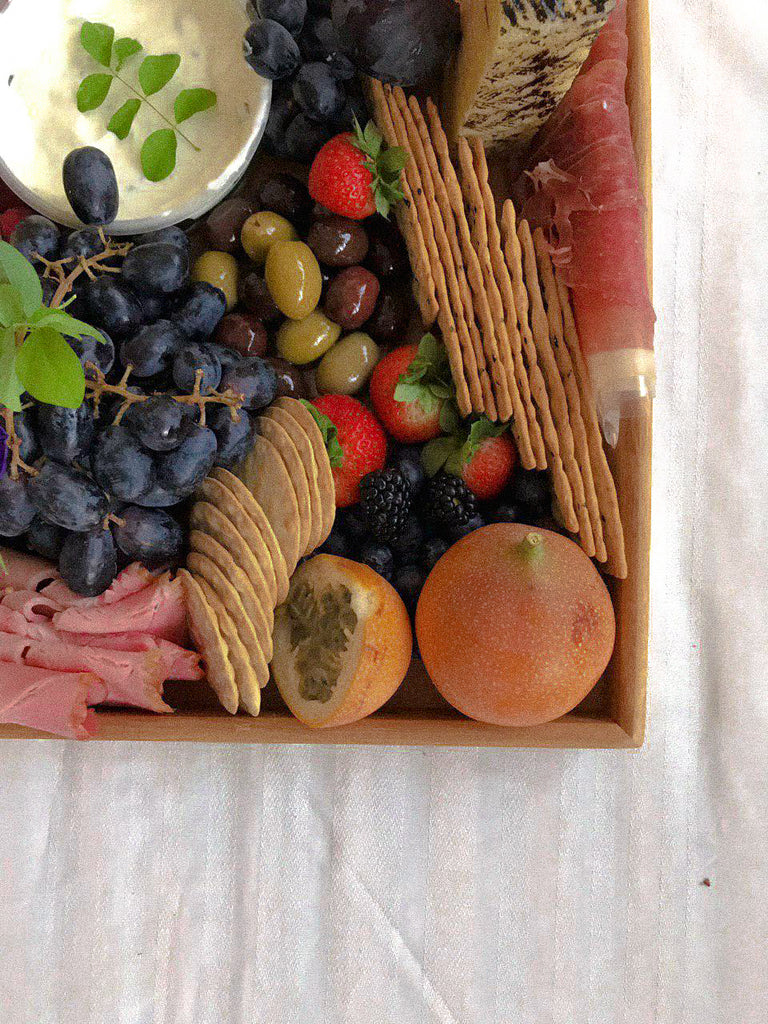 Wild Olive Branch Pastry
Cheese board (Regular)
A fine selection of cheese, dips and deli meat accompanied by homemade chocolate cracks, fresh seasonal fruits, premium roasted nuts and gourmet crackers nestled in a gorgeous platter box complete with fresh flowers and herbs. 
Dip: refreshing yoghurt-based cucumber and dill dip
Deli meat: contact us for meat-free options
The cheese board is best consumed immediately or refrigerated up to 3 hours.
CHEESE OPTIONS:
a) Camembert Graindorge raw milk (France)
b) Queso pure sheep milk cured with black truffle (Spain)
c) 
Queso Manchego Reserva (Spain)
d) Pont Leveque Graindorge (France)
e) Brie (France)
f) Double Brie (France)
g) Young Gouda (Holland)
h) Vintage Gouda (Holland)
i) Cheddar (UK)
J) Blue cheese (UK/NZ)
Kindly contact us if you have dietary restrictions on meat or nuts before placing an order!
TERMS & CONDITIONS
*Pictures are for illustration purposes only.
Kindly add a note in your order for delivery date and custom message.
Local Delivery is Available for this Product
---
Share this Product
---
More from this collection